Hey everyone! I'm continuing to branch out with trying new things on the blog, and since Nicki Pau Preto's Heart of Flames releases in exactly four weeks I wanted to celebrate! And by celebrate, I mean I wanted to do something fun, and different than anything I've done before. And so, behold: a Crown of Feathers themed book tag!
Feel free to participate in the tag, whether you're tagged by someone or not. Everyone is welcome! I'd love to see everyone's responses, so please link back to my blog in your post. If you don't have a blog, feel free to do it on Twitter or Instagram. You can use #COFBookTag, or tag me in your posts (I'm @wordsbyholly on Twitter, and @hollibrarybooks on Instagram).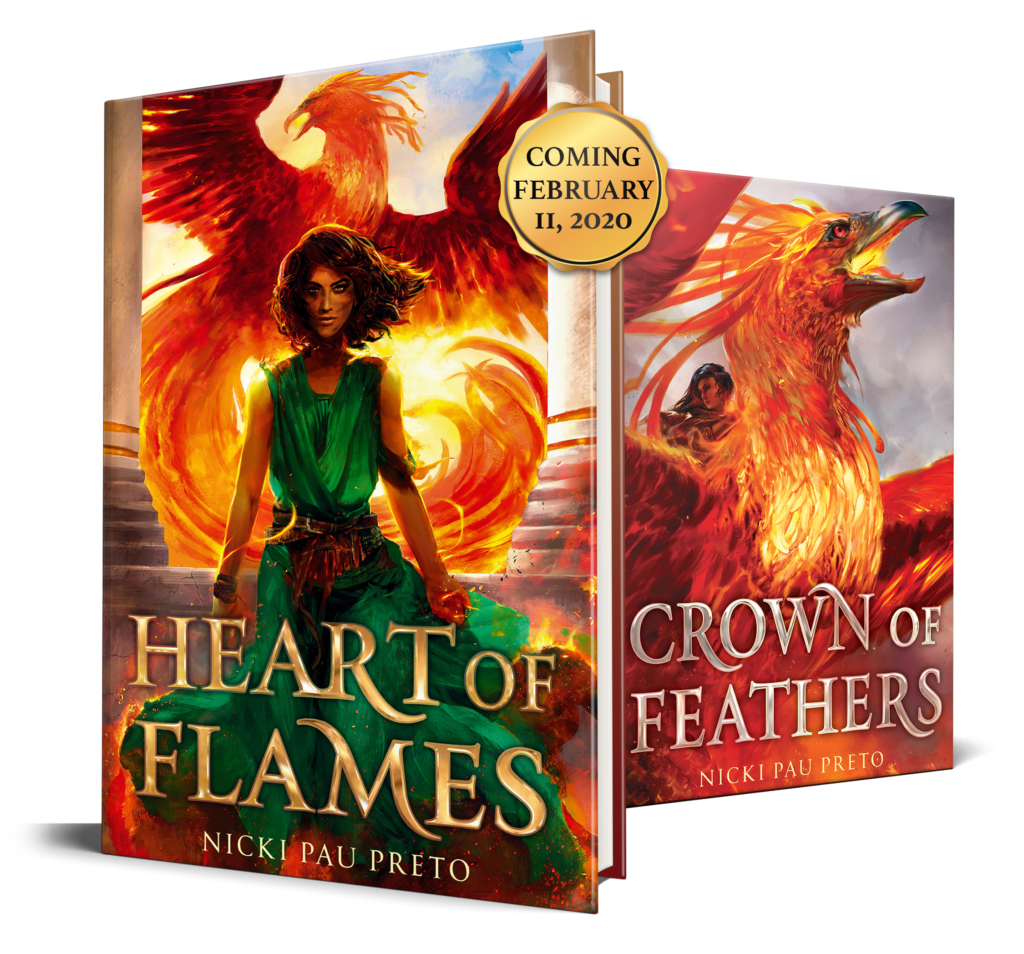 Not familiar with the books? That's okay! You can learn more about the series here, but here's the synopsis for Heart of Flames:
The world is balanced on the edge of a knife, and war is almost certain between the empire and the Phoenix Riders.

Veronyka finally got her wish to join the Riders, but while she's supposed to be in training, all she really wants to do is fly out to defend the villages of Pyra from the advancing empire. Tristan has been promoted to Master Rider, but he has very different ideas about the best way to protect their people than his father, the commander. Sev has been sent to spy on the empire, but maintaining his cover may force him to fight on the wrong side of the war. And Veronyka's sister, Val, is determined to regain the empire she lost—even if it means inciting the war herself.

As tensions reach a boiling point, the characters all find themselves drawn together into a fight that will shape the course of the empire—and determine the future of the Phoenix Riders. Each must decide how far they're willing to go—and what they're willing to lose in the process.
Heart of Flames releases on February 11, 2020 so there's still time to pre-order your copy from Indigo, Barnes & Noble, Amazon, Book Depository, or Indiebound. There is also an exclusive edition available from OwlCrate (with sprayed edges!), but quantities are limited.
Be sure to submit your pre-order receipt to receive some really fiery, feathery swag!
And now, back to the book tag! You can scroll down to see my own selections for each prompt.
🔥 The Crown of Feathers Book Tag 🔥
1. The cover of Crown of Feathers is absolutely stunning. Pick a book whose cover you fell in love with at first sight.
2. In Crown of Feathers, Veronyka bonds with a phoenix named Xephyra. Pick an animal from a book that you would love to have by your side.
3. Veronyka and Val are sisters, but they have a rather tenuous relationship. Pick a book where the protagonist has a sibling(s)⁠—regardless of whether or not they get along!
4. To join the ranks of the Phoenix Riders, Veronyka has to disguise herself as a boy. Pick a book where a character disguises themselves.
5. Phoenixes play a large role in Crown of Feathers. Pick a book that features mythological creatures.
6. Tristan excels as a Phoenix Rider and warrior, despite his fear of fire. Pick a character you'd like by your side in a battle.
7. Sev is a soldier, trying to escape the army. Pick a character who, no matter how tough they seem, is actually Soft™.
8. In Crown of Feathers, each chapter begins with an epigraph, and you'll also find letters and historical documents between chapters, too. Pick a book with expansive world-building and history.
9. Val can be ruthless, and does some particularly cruel things (no spoilers!). Pick a character who's a bad b*tch—for better or for worse.
🔥 #COFBook Tag – My Selections 🔥
1. Considering The Fascinators isn't even released yet, I can confirm my love is entirely based on this gorgeous cover. The illustration itself is beautiful, and I adore the blatant queerness, particularly with the bisexual colour palette.
2. All of the dragons in The Tea Dragon Society are absolutely adorable and I would love to have every single one in my life (honestly, thank goodness they make plushies). Jade and Chamomile are my favourites.
3. This was a tough choice, because there are so many fictional siblings I love. But I'm going with Ren and Christian from The Awakening of Ren Crown. This series is an underrated and underhyped favourite of mine, and while it may seem an odd choice (spoiler alert: Christian dies in the very first chapter), it's a relationship that extends beyond life and death, and powerfully drives so much of the first book.
4. The Deep & Dark Blue is fresh in my mind since I just read it in December. My favourite thing though is that while disguising themselves out of necessity to survive, Grayce doesn't shed the disguise at the end. Rather, the book inverts this commonly employed trope and turns it into a trans narrative! It's a story where that initial "disguise" simply becomes part of finding yourself, and being able to live as who you truly are.
5. They may not be featured quiiiite as prominently as the phoenixes in Crown of Feathers, but you will find mermaids in In Other Lands including as beautiful foiled illustrations on the cover.
6. Magnus Bane from The Shadowhunters Chronicles, hands down. Going into battle with an all-powerful warlock at my side? It's the obvious answer.
7. Dara Shirazi from The Fever King deserves the whole world, and then some. Maybe even the whole universe. #JusticeForDara
8. While it may not be the most expansive of all the fantasy books I've read, the history of the war between humans and automae in Crier's War immediately drew me into the world, and held my interest!
9. Jude Duarte from The Cruel Prince. You need a thick skin in Faerie, after all! She's ruthless in her own ways, and I respect the hell out of her ability to manipulate others.
And that's it! That's my first ever book tag! Again, please feel free to do the tag on whichever social media platform you prefer using #COFBookTag, and don't forget to tag others!